Los Angeles Youth Orchestra Staff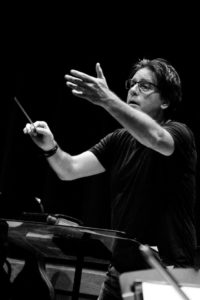 Composer Russell Steinberg instills passion for music in listeners of all ages. He is the Artistic Director and Founder of the Los Angeles Youth Orchestra, a widely-praised ensemble that includes 120 students from over 60 schools. The orchestra recently completed its second successful international tour performing to enthusiastic crowds in Italy at Cremona, Montecatini, and Rome. Steinberg is also a popular pre-concert speaker for the Los Angeles Philharmonic and offers an annual Winter Lecture Series on a wide range of topics. His AudioMaps® use simple illustrations that help people follow the narrative of symphonic music in full understanding without musical training.
Steinberg's music fuses Romanticism with contemporary pulse and colors that reviewers call "freshly lyrical, pulsating, edgy, infectious" and "shimmering with great beauty and energy." Three orchestras – the New West Symphony, the Bay Atlantic Symphony, and the Hopkins Symphony Orchestra – commissioned and premiered Cosmic Dust, a work that Science News Magazine featured in its issue celebrating the 25th anniversary of the Hubble Space Telescope. His Daniel Pearl Foundation commission, Stories From My Favorite Planet, tells the compelling story of Wall Street Journalist Daniel Pearl, alternating music with Pearl's own brilliant tragic-comic articles. Numerous performances have included Theodore Bikel and LA Philharmonic violinist Mitchell Newman. The Los Angeles Jewish Symphony recently premiered Canopy of Peace, a song cycle on meditations by noted scholar and philosopher Rabbi Harold M. Schulweis. The SAN BERNARDINO CARES benefit for the families of the victims of the 2015 terrorist attack performed Aria for a Calmer World for solo violin and orchestra. Steinberg's two award-winning string quartets were premiered by the New World String Quartet in Boston and the Lyris Quartet in Los Angeles.
Commissions and premieres for 2017-2018 include Trio for Horn, Violin, and Piano with Sierra Ensemble in the Presidio in San Francisco, Whack-A-Mole USA with double bassist James Rapport at the Gesellschaft für Musiktheater in Vienna, and Paleface with the celebrated Neave Trio that will have the trio playing to a video projection of paintings by acclaimed "psychological pop" artist Jerry Kearns at the Dimenna Center in New York City.
Steinberg received a Ph.D. in Music from Harvard University studying with Leon Kirchner, an M.M. from the New England Conservatory studying with Arthur Berger, and a B.A. from UCLA studying with Elaine Barkin. He has taught music theory at Harvard University and UCLA as an Assistant Professor and Visiting Assistant Professor. He developed over a dozen music listening courses for UCLA Extension. He was also Director of Music for 15 years at Milken Community High School where he created a classical music program for the all the Stephen Wise Temple schools, including elementary, middle school, and high school.
Information about Steinberg's current performances, recordings, and lectures, is available at www.russellsteinberg.com.
Laura Kay Swanson is Executive Director for the Los Angeles Youth Orchestra and joined the organization in August 2015. An experienced producer and arts administrator, she served as Artistic Planning Coordinator for the Los Angeles Philharmonic Orchestra for over three years and was Producing Director for The Industry for over two years, overseeing their inaugural production of Crescent City in 2012. She was managing producer for Rain Coloring Forest at REDCAT, featuring Indonesian artist and choreographer Sardono Kusumo and lighting designer Jennifer Tipton, and produced The Mortal Thoughts of Lady Macbeth, a contemporary chamber opera by Veronika Krausas, which was described by the Los Angeles Times as "a major experience, where surprise sidesteps operatic conventions."
She earned an MFA in Producing at California Institute of the Arts in 2011 and collaborated on a wide range of work including Shakespeare's Measure for Measure directed by Bob Cucuzza and The Bitter Tears of Petra von Kant directed by Zoe Aja Moore. She produced and directed a music video of the Hymn to the aria, "Hymn to the Sun" from Akhnaten by Philip Glass, which premiered at REDCAT in 2011 as part of the CalArts Film and Video showcase. In 2010, she was associate producer of the world premiere of Brewsie and Willie, a staged adaptation of the Gertrude Stein WWII novella presented by CalArts Center for New Performance in association with Poor Dog Group, which won a 2011 Ovation award for Best Production Design. Prior to attending CalArts, Laura Kay was a professional opera singer, having performed at the Metropolitan Opera, Los Angeles Opera, New York City Opera, and Carnegie Hall.
Anna Kouchnerov is a violinist, music educator, and arts administrator. She received her Bachelor of Arts from the UCLA Herb Alpert School of Music, where she actively lead and performed in interdepartmental projects bringing composers, dancers, projection artists, and musicians together from classical, jazz, and traditional music cultures from all over the world.
Anna has won numerous awards, and has been featured as a soloist with the UCLA Philharmonia performing on the 'Duke of Alcantara' Stradivarius violin. She has also performed as a chamber musician with ensembles across Los Angeles, including the Los Angeles Philharmonic for the Green Umbrella Series. Furthermore, Anna has participated in orchestral festivals, chamber programs, and masterclasses across the United States and Western Europe.
In past years, Anna has worked with a wide range of nonprofit arts organizations, including development & fundraising with the Los Angeles Chamber Orchestra, assisting with Monday Evening Concerts, serving as project coordinator for the Los Angeles-based ensemble Bridge to Everywhere, and providing special event & programs support for the Kronos Performing Arts Association and members of the Kronos Quartet.
Having been raised in the heart of Los Angeles, Anna is passionate about evolving local artistic experiences to strengthen relationships of the diverse communities in this vibrant city through classical music. She continues her pursuits in arts education and multicultural engagement as a performer, instructor, and orchestra manager for the Los Angeles Youth Orchestra.